Obagi Professional-C product line are formulated with Vitamin C help address the appearance of aging skin.
Vitamin C Is An Important Skin Antioxidant
• Vitamin C may offer many useful benefits:
• Helps minimize the appearance of fine lines and wrinkles
• Calms skin
• Brightens skin
• Retains moisture
• Stabilizes Vitamin E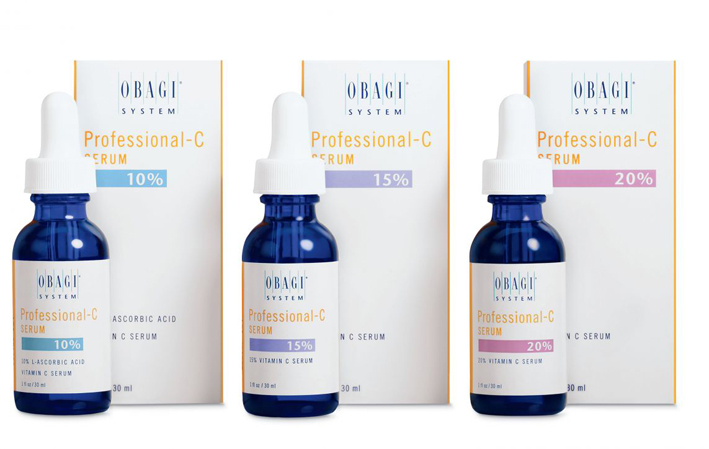 Superior Results
Obagi Professional-C Serums use advanced scientific formulas developed and tested by leading Vitamin C experts. Obagi Professional-C Serums offer maximum daily antioxidant protection and greater penetration than other Vitamin C products. The greater the penetration, the greater the antioxidant benefit to your skin.
Greater Penetration
Obagi Professional C Serums provide up to 2 times greater penetration than competition.
Why is Vitamin C important?
Vitamin C belongs to an important group of antioxidants which fight the free radicals that age the skin. Studies have shown topical Vitamin C, in the most effective form (L-ascorbic acid), can help improve sun protection, repair sun damaged skin, reduce fine lines, stimulate collagen building and potentially reduce discoloration of the skin.
When Should I Use Vitamin C Serums ?
Vitamin C can be used twice a day under makeup or sun block. It is easily absorbed by the skin to give 24 hour protection against free radical damage. When used under sun block it will provide additional protection against sun damage and environmental stress on the skin so is essential for individuals with an out door lifestyle.
How is the Obagi Professional C Serum different from other Vitamin C products?
The Obagi Professional C Serum patented formulation, using proven ingredients, provides a simple to use system for brighter, more radiant skin. While many Vitamin C products simply moisturize the skin's surface, the Obagi Professional C Serum penetrates to all layers of the skin, effectively delivering more Vitamin C than other brands.
What are Antioxidants?
Antioxidants are the skin's natural anti-aging solution. They act by neutralising the free radicals that cause damage to the collagen in the dermis layer. Free radical attack results in a loss of elasticity, discolouration and premature aging of the skin through a process known as "photo-aging". As we age and our exposure to harmful environmental factors increases, our bodies no longer produce enough antioxidants to halt the damage caused by these radicals.